Find Answers to Common Questions and Concerns Below
What are some ways I can better diagnose my basement or crawl space problem?
Could my basement waterproofing issue be causing mold growth?
What do I do if I have water coming up where the wall and the floor meet?
Is there a recommended way to clean up and remove existing mold from my basement?
You Have A Basement Water Problem In Your Home, So Now What Do You Do?
The home services industry is laden with fly-by-night contractors. If you are dealing with wet basement issues in your home, it is important to educate yourself about the process and understand  our options-particularly the related costs-as well researching reputable contractors before signing a contract for basement waterproofing and foundation repair.
When it comes to solving basement dampness, mold growth, wet walls and/or a cracked or leaking foundation, finding the right contractor, with the right fix, is one of the most important decisions you'll make to protect your home investment.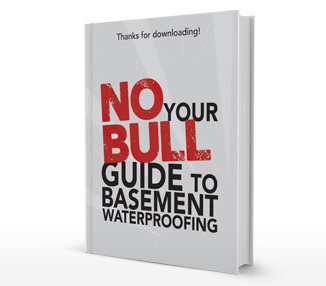 Arm Yourself with basement waterproofing knowledge, and get your free copy of Your No Bull Guide to Basement Waterproofing!
Click here to download»
Identifying the Problem: Do I Really Need Professional Help?
According to the American Society of Home Inspectors, 60% of homes in the United States have wet basement issues. The supporting explanation is simple science: Your home's basement is below ground level, and consequently, is affected by the freeze-thaw cycle and hydrostatic pressure. When the soil around your home becomes saturated with water, it presses slowly and steadily against basement walls, footer and under the floor. Over time, this water pressure can cause cracks in your walls, footer and floor, which in turn, can cause water leaks and seepage, and even flooding.
When dealing with the home's substructure, minor problems can become major issues if left untreated. Some of the early warning signs may include damp, humid air, condensation on pipes, efflorescence on masonry and concrete walls, and cracking in walls and along floor. These issues can lead to bigger problems like standing water, mold growth, dry rot and even structural damage. When you see these early signs of damage, it's best to contact a basement waterproofing contractor for a free estimate on professional repairs.

Identifying the Solution: What is the Right Fix?
The right waterproofing solution should address and eliminate all forms of moisture in your basement. It should include:

Waterproofing the Floor
Reputable contractors and many architectural engineers agree: When a high water table is causing leakage through the basement floor and/or the joint between the floor and wall, a relief system should be installed. This includes a sump (a well or receiving tank below the basement floor), under-the-floor drains, and an electric pump. The drains-most often made of perforated piping or drain tiles-are placed around the perimeter of the basement. A section of the floor is broken up and the drainage system installed; drain tiles are covered with crushed stone or gravel for drainage, and then the floor is patched.
The drain tiles direct the water to the sump, which is installed based on the slope of the land and the direction of major water flow. The electric pump, which is activated automatically when water in the sump reaches a preset level, directs water through the pipes to the sewer, storm drain, or ditch, dependent upon resources and local zone ordinances.
In addition, a reputable contractor will install a battery backup system to ensure the relief system will function in the event of a power outage. The size of your basement and your geographic location will affect the price of this waterproofing system, but in general, estimates should range from $5,000 to $7,000.

Waterproofing the Walls
Leakage through basement walls is most effectively corrected from the outside. Interior waterproofing paints, designed primarily for seepage, cannot stop leakage. Other inside waterproofing barriers won't work as effectively as those applied on the outside because water coming through the walls can push these interior barriers away. When a barrier is applied on the outside, it is forced against the wall by water pressure.
The best waterproofing barriers are membrane coatings (a three-layer system) or plastic film. Before such a barrier is applied, any visible cracks are sealed with expansive cement. If a membrane coating is used, the walls must first be thoroughly cleaned. The coating recommended by many architectural engineers consists of a layer of cold mastic or asphalt applied directly to walls, followed by a layer of fiberglass fabric, and covered by another layer of mastic. When plastic film (usually heavy-gauge polyethylene) is used as a barrier, it is applied in overlapping sheets and sealed with an adhesive. Estimates given to architectural engineers for this process varies greatly, from $100 to $165 per linear foot. For a 25×30 ft. basement, the cost ranges from $11,000 to $18,000.

Moisture Control and Ventilation
Condensation occurs when warm, moist air in your basement comes in contact with cooler surfaces such as cold-water pipes or masonry walls or floors. Cold-water pipes that "sweat" are a sure sign of condensation. But even without that red-flag warning sign, condensation in your basement can cause dampness on the walls and floors and spur mold growth, causing a musty odor and unhealthy living conditions. To eliminate condensation, reputable contractors and architectural engineers agree that venting the basement is an integral part of the solution. In fact, the waterproofing industry is evolving to include ventilation systems as part of comprehensive waterproofing systems.
As today's homes are built increasingly air-tight (to increase energy efficiency), there is a much greater need for increased ventilation. The EPA recommends maintaining a standard of quality for indoor air, which requires adequate ventilation and air exchange within the home. This can be accomplished by installing a mechanical ventilation system that not only reduces moisture in the air, it also inhibits mold growth for decreased allergens and healthier indoor air quality; and helps to eliminate the musty odor that is associated with damp surfaces. You can expect to pay an additional $1,000 to $2,000 for a ventilation system as a part of a complete basement waterproofing solution.

Choosing The Right Contractor
The home services industry is notorious for here-today, gone-tomorrow contractors, so research is critical. In today's digital world a wealth of information is available at your fingertips-so, use that access to your advantage by researching waterproofing contractors before you make the initial contact. You should be looking first for the basics, such as how long they've been in business (five to 10 years at minimum); if the contractor is licensed, bonded and insured to operate in your city; and to confirm that the company carries workers' compensation and public liability insurance.
From there, do your homework on social media websites: How are they rated by their customers? Check local consumer group websites to get a gauge for the company or contractor's reputation within your community. How much (recent) work have they done in your area? What are customers saying about their service, product, warranty, and overall value?

Professional Organizations & Credentials
In the waterproofing industry, there are a number of professional organizations that lend added credibility to a contractor's body of work. Consider that some of these organizations require that member companies' waterproofing systems meet stringent quality standards to earn certifications; and that the contractors/employees complete ongoing training and education, adhere to industry best practices, submit to testing, etc. A few of these professional organizations include:
The Basement Health Association (BHA, Formerly NAWSRC)
National Association of the Remodeling Industry (NARI)
National Association of Home Builders (NAHB)
Building Industry Association (BIA)
Federal Housing Authority (FHA)
Indoor Air Quality Association (IAQA)
International Code Council (ICC)
Lead Safety in Older Homes
Finally, for your health and safety and that of your family, it is important to ensure the contractor is a Lead Safe EPA-certified firm. Federal law requires contractors that disturb painted surfaces in homes built before 1978 to be certified and follow specific work practices to prevent lead contamination. Based on the danger of such occurrences, waterproofing contractors are required to be educated about and take proper safety precautions when dealing with lead-based paint while working in your home. Always ask to see your contractor's certification, especially if you live in an older home.


Learn more about the EPA's Lead-Safe Program.
Click here to learn more»
The Right Warranty: Protecting Your Investment
Just as all waterproofing solutions are not the same, so warranties differ from contractor to contractor. It is important to note that a waterproofing contractor can only provide a warranty for the areas on which he/she has performed work. In other words, if your contractor waterproofs the floor only (because he/she told you that's what is needed) and you later have water seepage from your walls, then you've got an expensive problem on your hands.

The First Rule of Thumb
Study both the scope of work and the warranty agreement. Vague language on a warranty agreement can give a contractor wiggle room to refuse services at a later date. Always, the warranty should be comprehensive, covering any and all forms of moisture entering the home, from the floor, cove (where the wall and floor meet), walls, and even excess moisture in the air. Just as the waterproofing solution should cover all basement water-related issues, the warranty should ensure the performance of that solution.
The type of warranty is also an important element to consider: For example, not all warranties transfer. Some warranties require an added payment to transfer the waterproofing system to a new homeowner. If your warranty is non-transferrable then you essentially lose the value of the repair, just as a transferrable warranty is an added selling feature for your home.

Don't Pay Twice For Basement Waterproofing
It's easy to be lured by low price guarantees. Yet, often the "you get what you pay for" adage rings true. When you are considering investing in a lifetime repair on your home, it's important to consider not only cost, but also the contractor's expertise and reputation, integrity and quality of the solution, and service and warranty guarantee.
Many consumers underestimate the importance of a service commitments and warranty guarantees, following the "one and done" mentality. But reality is that all waterproofing systems will need some form of attention at some time during the life of the home. As you contract with a waterproofing company to manage your basement water issues, look at all facets of your work, service and warranty contracts to ensure that you have complete coverage, for a lifetime solution that provides a positive return on your investment.